"These are the best athletes in this sport and I am really lucky to be able to race with them"
Dakota Jones
From "Temporary job" to unique experience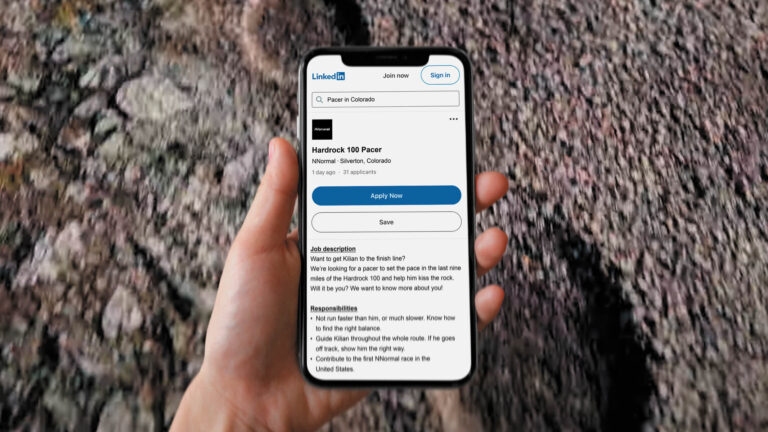 Do you want to take Kilian to the finish line? We are looking for a pacer to mark the tempo of the last nine miles of Hardrock 100 and help him to kiss the rock. Will it be you? We want to know more about you!
This was the headline that appeared in the job offer we published on LinkedIn to find Liz Hogan (@Liz Hogan), the pacer selected to guide Kilian Jornet in the last nine miles of the race. "It has been one of the most incredible experiences of my life. I feel very honoured and lucky for the weekend that I have experienced", Hogan said excitedly at the end of the race.
Walking together to leave no trace
7.30 am. Kendall Campground. 25 people and an objective: to clean the trails in the Silverton area, and in particular the South Mineral Creek area, and to help to prevent forest fires and fight against the degradation of the landscape.
The NNormal team and its volunteers, some of them HR100 runners, divided into three groups ready to neutralise 83 fire pits and remove 500 lbs (226 kg) of debris from South Mineral Creek Road. A day of learning, teamwork, community and awareness. All to protect the San Juan Mountains!
At NNormal, we are not just committed to the athletes and the races, but also to people and the planet. To do so, NNormal joined the activities of the San Juan Mountains Association (SJMA) to raise awareness of the environmental impact and to help to preserve the ecosystem of the area.
Because caring for and protecting the planet is everyone's responsibility.
Another one of the activities organised by NNormal was the talk with Kilian Jornet, Dakota Jones, David Traft and Peyton Thomas (local specialists on the subject) to reflect on the global and regional actions and initiatives that should be developed in the fight against climate change.
Coffee Bear Silverton, very well known in the area, was the setting of a very long and informal conversation on industry, the outdoors and climate change at all levels. It was a magnificent afternoon of reflection, reality and optimism.
Hardrock 100 is much more than an ultramarathon. It is history, community and a love for trail running and through these mountains. It's pure passion!
"Thanks for making Hardrock 100 an amazing race with a great community of good people"
Kilian Jornet
Exclusive wallpapers
If you followed the race on our instagram you probably already saw them. Now you can download the wallpapers for your smartphone created by our ambassador and athlete, Max Romey.