Chamonix will become the epicenter of world trail running for a few days, with 10,000 runners from 100 nationalities participating in different individual races (UTMB®, CCC®, TDS®, OCC, TDS®, MCC and YCC) and team races (PTL®). The time has come for the 19th edition of the Ultra Trail du Mont Blanc (UTMB)!
The story of the Ultra-Trail International du Tour du Mont-Blanc, the original name of the race, started back in 2003 when Michel and Catherine Poletti came up with the idea of running around Mont Blanc, starting out from Chamonix and crossing the three countries where this massif is located; France, Italy and Switzerland, in less than 48 hours. A route that would normally take between 7 and 10 days.
This first edition gathered 711 runners from 19 nationalities. As the years passed, the number of runners rose, to the point of having to limit the number of bib numbers and change the system for entering the race. Between 2006 and 2018, other races and categories were added. 2008 marked a turning point in the event. The entries sold out in record time and this was also the year of the first victory and record (20:56:59 h) set by Kilian Jornet, at the age of just 19. At present, the only way to enter for the race is through a points system in other mountain races and a draw.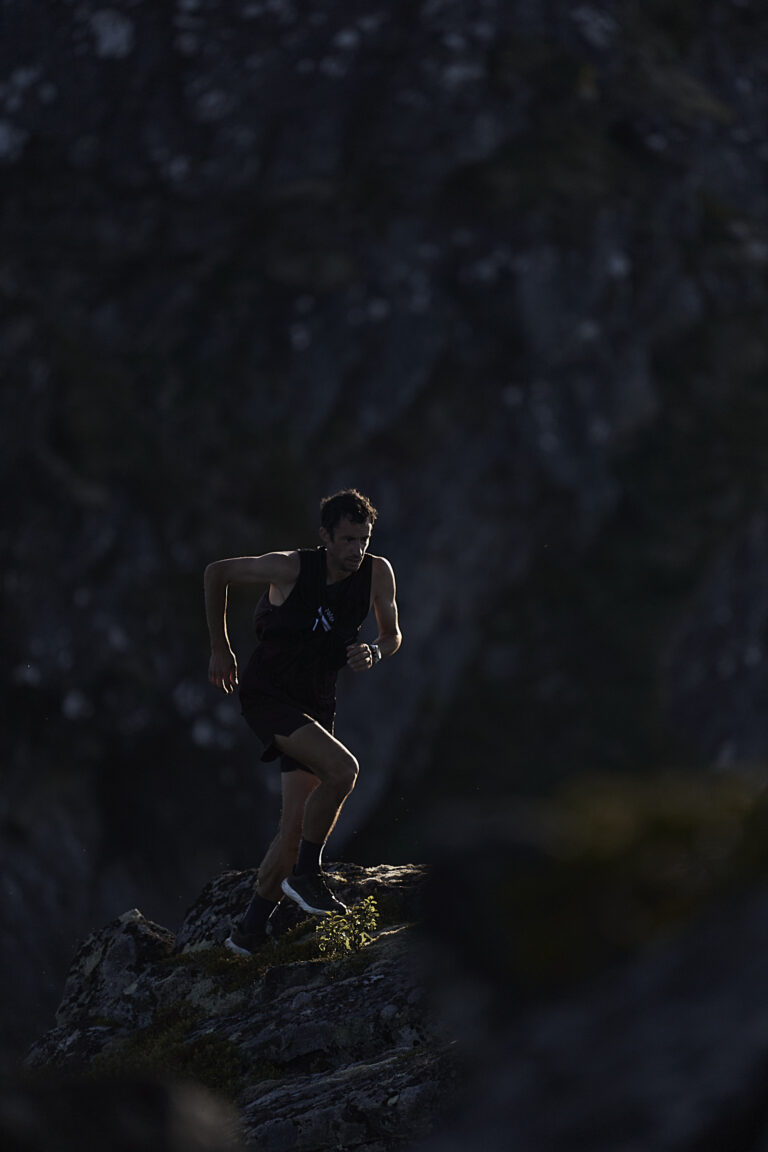 "Because this is where my long-distance running love-hate story began."
Kilian Jornet
A unique adventure
Impressive, technical, wild and extremely difficult; just a few words to describe this legendary event. Next 26th August at 6 p.m., 2,300 runners from around the globe will set out from Chamonix to cover a distance of no more and no less than 170 km with elevation gains of over 10,000 m, crossing three different countries (France, Italy and Switzerland), to fulfill their dream of running around Mont Blanc in less than two days (46:30 hours at most). The record is currently held by the Catalan athlete Pau Capell, who stopped the clock at 20:19:07 h in 2019.
This mountain race is one of a kind. Firstly, because of the distance and terrain and secondly, because of the weather conditions, which can be very bad at certain times, especially at night (cold, wind, rain and snow). Two conditions that require hard training, the use of adequate gear and a high degree of willpower and self-discipline.
More than 2,000 volunteers will be taking part in this adventure to help the runners fulfil their dream.
Where everything began for Kilian Jornet
The UTMB 2022 will be very special, as it is the first edition in which Kilian Jornet and Tòfol Castanyer will be wearing the NNormal running gear. We have already seen Kilian at Zegama and Hardrock 100, and Tòfol at the Camí de Cavalls and Ehunmilak, but for both of them, this will be their first time wearing the NNormal gear during this legendary race.
Kilian Jornet announced in February that he would be entering for the UTMB 2022. After 4 years without taking part, and with three wins behind him (2008, 2009 and 2011), he will be competing alongside famous names such as Jim Walmsley, Pau Capell, Tim Tollefson, Aurélien Dudand-Pallaz, Mathieu Blanchard and his travel companion, Tòfol Castanyer.
Kilian started the season with his race calendar etched on his mind, in order to get to the UTMB in peak condition. In his words, "My main motivation this season was to recover and adapt to short and long race training sessions. The most interesting part of the training is analysing your feelings every day and interpreting what you really need to recover and get ready for the next race".
Tòfol Castanyer, winner of the World Skyrunning Championship in 2010 and the CCC® in 2012, returns to the UTMB with more enthusiasm than ever. His preparation for the TDS race was not limited to outdoor training, as he has also used an indoor treadmill for certain specific training activities.
Follow our social media to find out how you can support our team at the UTMB 2022!You can also visit us at the Ultra-Trail® Show stand starting Monday at 4:00 p.m.
Let the show begin!